5 Amazing Benefits of UV Nail Polish You'll Love


A great manicure gives any woman a confidence boost. But not just any manicure! We're talking one that keeps intact for over a week, looks OMG-professional and expensive and…can be achieved at home. Yes, you read that right, we're on about UV nail polishes and their amazing benefits that we want you to discover right now.
Ready to find out why you should ditch your old polishes and stick to these bad girls? Here are 5 benefits to love: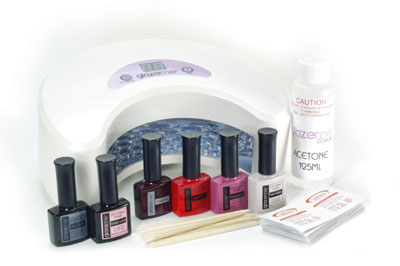 It's There to Stay (for Longer than You'd Expect)
Forget about your traditional acrylic nail polishes that start chipping and peeling just after a couple of days. Possibly the biggest advantage of UV nail polish is that it stays on your nails for – YES! - up to 2 weeks. This will definitely come as a blessing for women who are used to having touch-ups every other day – these cutting-edge UV nail polishes save you time, effort and nerves, ladies!
Women who plan on travelling for business or going on a nice, long holiday, or simply want to feel nail-carefree every day will forget about anything else, as soon as they try these spectacular polishes.
It Saves You Lots of Cash
Once you've got your own kit you can wave bye-bye to expensive salon manicures. You are welcome to try the GlazeMe™ UV nail polish starter kit - an affordable alternative to expensive nail salons – and experience the difference, saving lots of money and precious time.
You Can Do It Like a Pro
Initially meant for professional use (that's why you should expect fabulous results!), UV nail polishes are now available for home use, as well. GlazeMe™ has created an impressive range of polishes to be used at home by ladies who do not have enough time to waste on salon appointments. Who said you had to be a nail artist to get your own flawless manicure?
It Shines Bright Like a Diamond
For every lady who loves glossy nails, UV nail polishes are a natural choice. They allow you to flaunt an insane amount of shine which, with normal polishes, will fade away after just one day. The lustrous polish and expensive look of your nails will get you addicted, darlings!
It Dries in No Time
How many times did you ruin your nail polish even before leaving the salon? This happens because normal polishes take ages to dry and you simply can't waste all that time waiting for it to happen. Well, with UV nail polishes this is history. The great advantage here is that they dry pretty quickly (almost instantly) thanks to LED UV lamps that cure each coat in 90 seconds! Air drying will seem so passé.
Have we got your attention? Time to try some UV nail polishes, ladies! We promise love at first coat.
Author: Georgiana Candescu
| | |
| --- | --- |
| | A true beauty maven, Georgiana Candescu is in love with everything that helps a woman wow any crowd. She writes for international online magazines and blogs, targeting female readers that have a common passion for all things beautiful. She loves to use her flair and knowledge to give women tips about the latest cosmetic and makeup breakthroughs. Every woman can reveal her inner diva using the right beauty products, and Georgiana will help you discover what you should use to add a touch of pizzazz to your look! |