5 Must-Wear Nail Polish Trends to Channel this Spring
Author: GlazeMe Date Posted:8 September 2016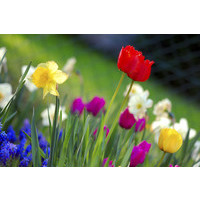 Time to forget about the stark winter colour palette and tackle fresh shades to help us glow in
the new season. Hello there, Spring!
As always, GlazeMe has your nail inspiration covered. Therefore ladies, here are the
hottest colours to channel from breakfast to after hours, as seen on the Fashion Week
catwalks.
Commanding Red
Since red is show-stopping by definition, it will demand attention when you paint it on your
digits. From watermelon to crimson, everything works as long as it is bold and vibrant.
Besides, when matched with red lips, red nails make a huge fashion statement. For a wow
effect try our Hot Tamale, Reddy Set Go!, or the Hot Fiesta polishes.
Ocean Blue
Any shade of deep blue is so en vogue right now. The one that we could wear on repeat is
Hello Sailor, a beautiful hue of royal blue which nods to the sea, sun and fun. We love it
because during the day it looks bright and sparkly while at night it becomes elegant and ultra-
chic.
Saccharine Pastels
Welcome to the candy shop! There is no better season to indulge in pastel colours than
spring. And, if you are not a fan of bold shades, this trend is just perfect to help you showcase
your sensual, softer side. In terms of subdued colours, you are truly spoilt for choice with our
nail polishes. From Skies are Blue (a delicious shade of baby blue) to minty Lagoon and
Baby Doll (the sweetest shade of pink), pastel tones are all the rage this spring. Not to be
missed.
Gorgeous Sparkle
Ready for a more sophisticated approach? Try glittery nails. We are totally besotted with
anything that shines, sparkles and catches the eye, especially when it comes to nails. No
matter the shade, glittery digits will be the perfect complement to the simplest outfit, adding
personality to your look. Our top picks are Purple Haze, Manic Metal, Twilight Glow and
Starlight, but we've got many more shimmery choices for you to discover.
Purple Fiesta
Grape, plum, mulberry, mauve, lilac, lavender, periwinkle. Where to start? If you have an
appetite for shades of purple, you have a good reason to rejoice: violet nails will be adding
the perfect touch to boost your mood, creating a subtle illusion that your skin is slightly
tanned. From Burgundy Bliss to Bellflower to African Violet, we've got the range covered
for you.
What will your first choice be?