Glitter Me, Glaze Me! - A Guide to using glitter.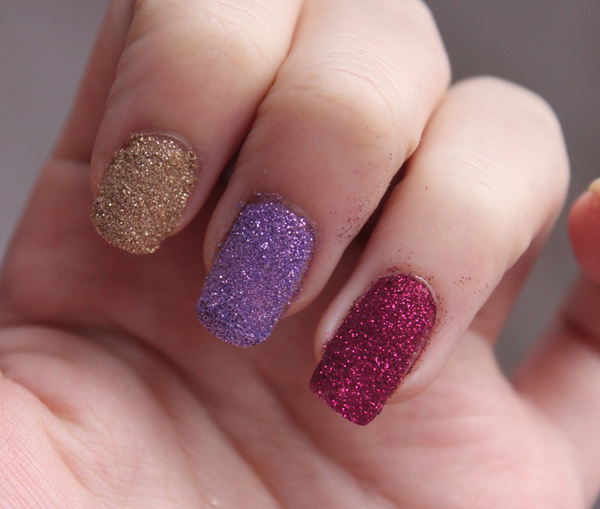 Decorating nails adds a touch of glamour to any outfit and this is one of the main reasons for which nail art has become popular with women of all ages. One of the most used products in nail art is glitter, which is now available in a variety of colours and sizes at GlazeMe. With our nail art glitter you can create endless designs that shimmer and create a special effect for any manicure.
Glitter can be used either by itself to create various designs on nails or mixed into polish colours or top coats before painting the nails.
Here's a quick and simple guide to doing a "full coverage" nail with glitter.
1) Prepare the nail for GlazeMe application, as per usual.
2) Apply GlazeMe Base Coat & set under UV light.
3) If desired (for a more "full coverage" look), apply a single coat the GlazeMe colour of your choice. TIP: Choose a colour to compliment the glitter you are going to apply i.e. Nougat for a base for the Rose Gold Glitter & set under UV light.
4) Once the colour has set (or the base coat, if you choose not to use a colour), apply GlazeMe Glitter to the sticky inhibition layer. Do this by using a small, dry brush, scooping a small pile of glitter and placing it on the nail. Use the brush to pat the glitter down and distribute over entire nail. It is important that you pat the glitter down with the brush as you distribute so as many particles as possible attach to the inhibition layer.

5) Once distributed, use the brush to gently brush excess glitter off the nail. Do this to each nail – the amount of glitter needed will depend on the size of your nail. There will most probably still be some glitter particles on the surrounds of the nails – this is fine. You can get these at the end of the service, when you remove the inhibition layer. Apply the GlazeMe Top Coat over the top of the glitter and set.
NB: It is most probable that some glitter particles will come off on to the brush, so to avoid having any glitter on your next "non-glitter nail", have a separate top coat that you use for glitters only OR use the GlazeMe "Starlight" polish, which already contains glitter. If you use the GlazeMe "Starlight", you will need to still finish off with the GlazeMe Top Coat.
6) Once GlazeMe Top Coat has been set under the UV light, remove sticky inhibition layer with the Isopropyl Alcohol.
Extra Tips:
Don't forget that you can mix your own custom glitter colour!
The nail may not be as "smooth" as a normal polish application due to the roughness of the glitter. If you feel it is not smooth enough for your liking, apply another top coat!
How about a french mani with glitter tips using our french tip guides?
How do you use glitter? Send us an email and let us know!