How to Match the Perfect Polish Colour to Your Skin and Nail Shape


Flaunting beautiful hands is not only about a perfect manicure: soft, hydrated skin and groomed nails are extremely important as well. Just like a body needs to fit in the perfect dress style to look stunning, nails need to find the right polish colour that flatters them. Regardless of trends, the shape of fingers and nails plays an important role in choosing the perfect nail polish for you. The colour of your polish will follow and enhance your every movement and hand gesture, and this is why it should be carefully chosen and applied. There are no universal laws regarding this hot topic: just some style tips and a little healthy practice.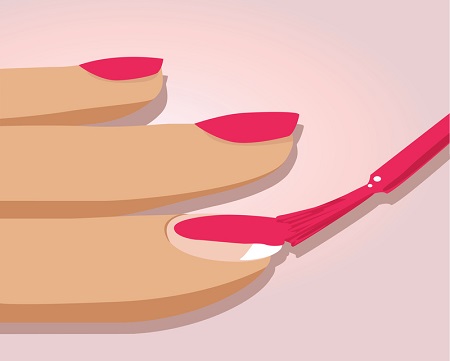 Dark shades, such as Tarmac Black, Ocean Queen, Black Plum or Burgundy Bliss will always be in fashion. They are a great choice for wide nails, but they should rather be applied in the center of the nail, leaving a little bit of the sides bare for a slimming effect. In this case your fingers will also look longer, which is a bonus.
On the other hand, pastel shades make nails look wider. Choose Skies are Blue, Baby Doll, ivory or Primavera if your fingertips are very slender. If you have small nails, coat them entirely with these light colours to make them look bigger. Ladies know that while black has a slimming effect, white works the other way round. Remember this goes for hands and nails as well.
A timeless classic, sexy red makes nails appear bigger, and even very short nails will look longer with a beautiful coat of Hot Fiesta. In case you have very tiny hands with short nails, they might look a bit chubby with this colour. If your fingers are long and slender, even with short nails, red will totally rock!
Now that summer is here you will start channelling brighter shades and pastels that you can match with your makeup or clothes. Remember to keep the eccentric shades for your free time and holidays, choosing classic shades for work or formal occasions. It is wiser, especially when you don't have a boss with a sense of humour.
Another trick for your hands to look beautiful is to choose the polish colour based on your skin tone. Fair skin goes well with pastel shades, bright red, black, blue or berry. Blue also matches olive skin, just like gold, chocolate brown or dark green. To enhance a tanned hand, opt for grey, pink, brown, lavender or neon colours.
Keep in mind that light colours are masters at camouflaging small imperfections, while the dark ones enhance them, being also a tad more difficult to apply. Follow these little tricks and your hands will get noticed and admired. That's what every woman wants, isn't it?
Author: Georgiana Candescu
| | |
| --- | --- |
| | A true beauty maven, Georgiana Candescu is in love with everything that helps a woman wow any crowd. She writes for international online magazines and blogs, targeting female readers that have a common passion for all things beautiful. She loves to use her flair and knowledge to give women tips about the latest cosmetic and makeup breakthroughs. Every woman can reveal her inner diva using the right beauty products, and Georgiana will help you discover what you should use to add a touch of pizzazz to your look! |